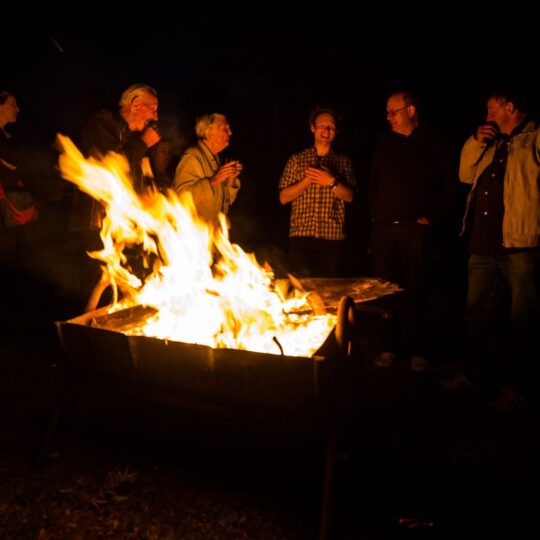 Since 2009 The ACRE Project has run on-farm artist residencies, seminars, workshops and exhibitions that look at how art and agriculture intercept with history, community resilience and planning.
We are based in Swan Hill, Victoria and focus on our local area, and towns and rural areas nearby – in both northern Victoria and southern New South Wales.

The ACRE Project [Australia's Creative Rural Economy] believes the immersion of art into rural communities can help foster an understanding of country, place, and those that live there. We also believe this needs to be celebrated.
The ACRE Project is an initiative of the Swan Hill Regional Art Gallery with support from Regional Arts Victoria and South West Arts, and a local steering committee of arts workers and farmers.
The ACRE Project:
supports the sovereignty of First Nations people, and acknowledges their strong connections to country
celebrates rural culture, way of life, aesthetics, landscape, climate, connection with land, history, and the desire to produce food and fibre
celebrates innovation, and sees through its activities the opportunity for place making and reimagining the future
supports multidisciplinary art forms
seeks to promote and grow the arts industry in this region.
seeks to revitalise rural towns and communities
TWIG artist residencies
TWIG is an artist on farms residency program that started in 2012.
Farmers generously host an artist on their farm, sharing their homes, meals and time to create works that respond to and resonate with the farm and local area. In some cases, workshops are held for locals.
TWIG residencies which can be anywhere from three to 10 days.
At the end of the on-farm residency, the artist and farmers present a TWIG – a night of food and conversation around a fire with family, friends and neighbours, and the chance to experience the work created.
Artforms have included sculpture using found materials, film projections onto farm equipment, soundscapes, music, recitals by the fire, and two-dimensional work hung on the outside of a shed or in a paddock.
About the TWIG name
Twigs or twiggies are an informal gathering around a fire in the Mallee region of northern Victoria and southern NSW. Twigs are common and can be as regular as a weekly bonfire and barbecue at someone's house, or as infrequent as an occasional roadside fire where a few farming friends share a beer and talk.
Twigs, twiggies, twig fires are about people, communication and fire. They have been happening for generations and are not in action exclusive to the Mallee, however the name Twig seems to be only used in this region.