Moulamein Town TWIG – ACRE21
May 2021 at Nyang Woolshed, Moulamein (part of ACRE21)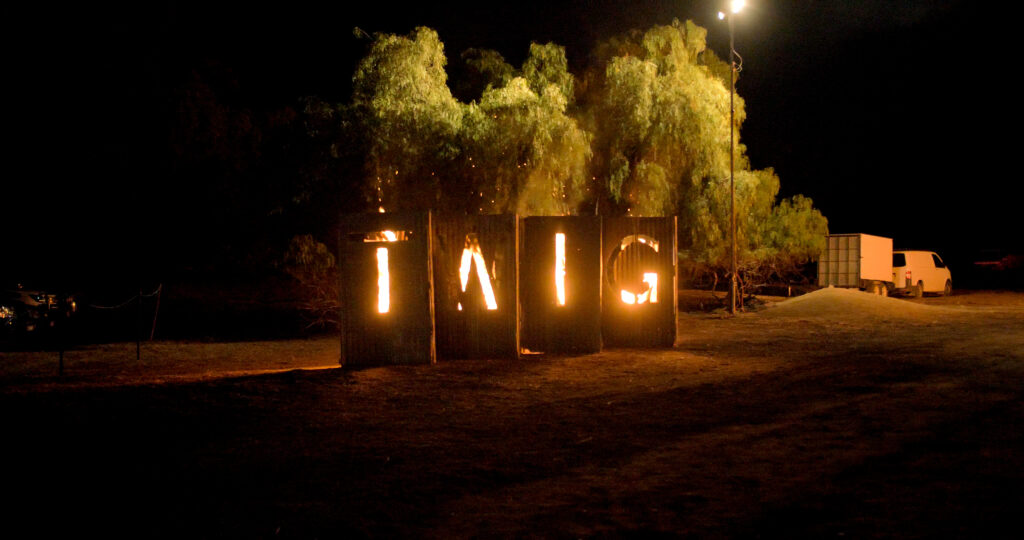 We think the smiles in the photos from this TWIG say it all. There was music, humour, storytelling, artwork and a cracking fire to gather around. It was a real treat.
The Moulamein Town TWIG was the third in our ACRE21 series. The 100-strong crowd came from Moulamein, neighbouring farm communities and from Swan Hill. Some had also travelled from areas like Ultima and Echuca after being at our Quambatook and Balranald Town TWIGs and enjoying them so much.
This Town TWIG was actually held just outside the town of Moulamein, at Nyang Woolshed, thanks to property owner and long-time The ACRE Project supporter Peter Redfearn. Artist Josephine Duffy, who grew up in the area, created a stunning accordian-style big book TWIG sculpture to welcome guests.
Kutcha Edwards (accompanied by Daniel Marquez), Neil Murray (accompanied by Damien Neil) and Kristin Rule used spoken word, visuals and music to keep us entertained, but also to make us stop and think, to reconsider. They told stories of family, history, culture, landscape, natural disaster, resilience and hope.
A wonderful night, made even more special because just a few days later, neighbouring communities in Victoria were back in COVID lockdown.
Partners – Murray River Council, South West Arts and Create NSW
Photos  and video – Mitchell Barkman
Gallery