Tragowel Farm TWIG – ACRE21
June 2021 at Tragowel (part of ACRE21)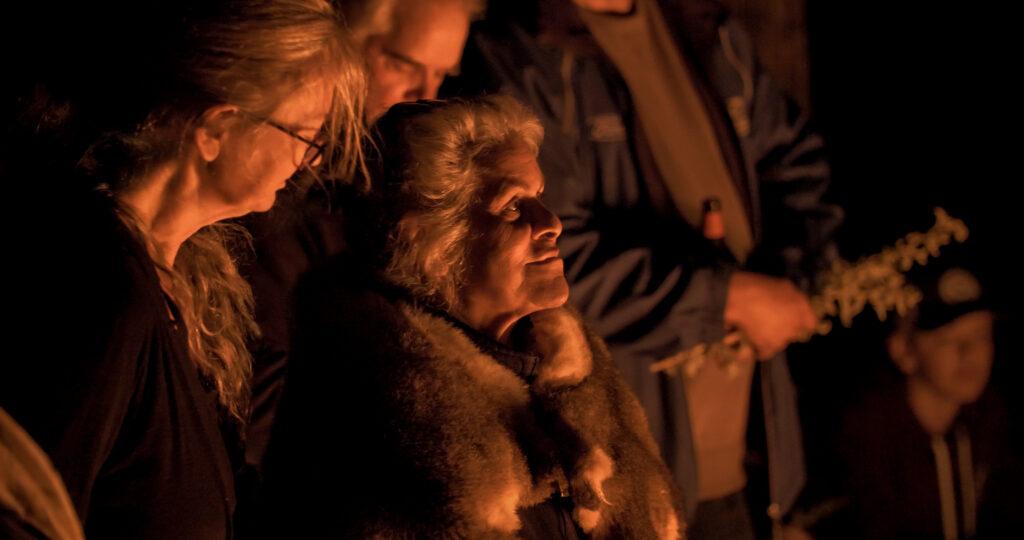 The elements of fire and water were the focus of a ritual ceremony by Margie Mackay and Esther Kirby at the end of this week-long residency at Tragowel.
They had spent the week with farmers Ron and Chelle Reynolds, sharing stories, touring neighbours' farms and visiting nearby Boort.
They held a traditional TWIG to end the residency. Neighbours came together to experience the ceremony, to hear Aunty Esther's stories and to share some of Chelle's delicious food
Holding saltbush and having their hands washed in Murray River water, they walked through a beautifully decorated hay feeder to a fire. There Aunty Esther performed a smoking ceremony and Margie invited everyone to write down something they wanted to let go of and to release it by burning the words in the fire.
They were asked to carry the flame across to the Reynolds' home where they met Lois the emu – a beautiful creature made during the residency and with eggs from the neighbouring emu farm. Esther told more stories of the emu and the night sky.
A great week of learning and new experiences.
Partners – Gannawarra Shire Council, Regional Arts Victoria
Videos and photography – Mitchell Barkman
Gallery